Ekaya Press Release – September 2014
September 17th, 2014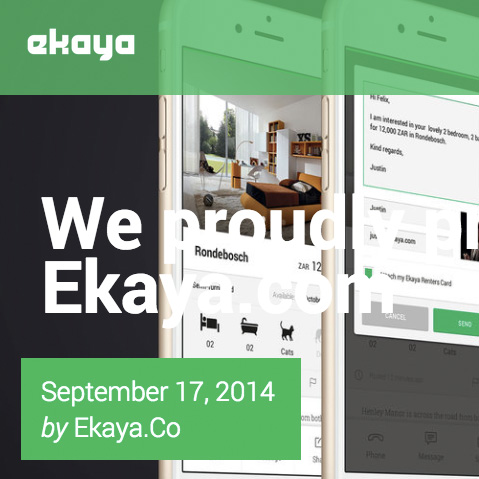 They have been a little quiet for the last 2 months while they've been hard at work behind the scenes. Today they're finally able to start sharing the fruits of that labor with you.
Funding
Ekaya has raised a R1.4 Million Angel Round from prominent local and international Angels. Justin Stanford, Daniel Guasco, Wayne Gosling, Sebastian Stoddart and Guilherme Steinbruch join Mark Heerden and the 88mph Seed Fund as investors in Ekaya. The new injection of funding will give Ekaya the resources and network required to continue development, enter the South African market and prepare for international expansion over the next 12 months.
"We could hardly be more excited about the level of investment we've been able to attract to Ekaya. Not only is this a sizable Angel Round, but all of the individuals involved are highly successful tech entrepreneurs and leading early stage investors with global networks. Their support is game-changing for a little startup like ours. The Silicon Cape startup ecosystem has come a long way and matured to the point where ambitious entrepreneurs like us finally have the fertile soil we need to design, build and grow technology businesses for the global stage. I'm looking forward to the public reaction to our work as we continue to make the business of renting better." – Justin R. Melville (CEO, Ekaya).

"These are the kinds of startups we want to see, as angel investors, coming out of the Silicon Cape ecosystem – solving real problems and making peoples lives better with elegant technology solutions." – Justin Stanford

"Ekaya are an incredible team with a unique vision that we feel will define the next era of property renting not only in SA but around the globe." – Wayne Gosling
Cape Town Public Launch
Until now Ekaya has been quietly testing it's services in a private, invite-only BETA in Cape Town. Starting September 15, Ekaya will become available to everyone in the Cape Town area, completely free of charge. Landlords are invited to list their rentals with our simple, secure and mobile-friendly service to access our pool of quality tenants. Ekaya's list once technology means that landlords can simply reactivate their listing when the current lease next expires.
"For too long finding a home to rent, or great tenants for yours, and concluding a deal has been a difficult and opaque process. No longer — eKaya's brilliant team has given us a stunningly designed, user experience oriented home rental solution for tenants and landlords, that works beautifully on both web and mobile, and has a trust system built right into it." – Justin Stanford
Tenants can browse our growing range of more than a 1,000 quality listings available on any given day on Ekaya.com and use our enhanced search and discovery tools to find properties that meet their most important needs.
"Our test program has gone really well and demonstrated strong interest from the market for a service like Ekaya. With the economics of renting, there's a strong desire to "do it yourself" from landlords and now Ekaya is bringing them the tools they need to do it better. For guys and girls looking for a place to rent, we're seeing strong engagement figures which means our greatly enhanced search and discovery system is working." – Ruark Ferreira (CXO, Ekaya)
Near future plans
We're still in the early days of our journey to make the business of renting better. For now, Ekaya is focussed on getting the recipe "right" in Cape Town before expanding to Johannesburg and Durban in the coming months.
"Ekaya users can expect a smarter application and viewing process, simple and transparent rental payments and a revolutionary new way of handling the security deposit. Ekaya is passionate about building the "trust layer" for the rental space and delivering exceptional value through technology and services." – Justin R. Melville (CEO, Ekaya).
More posts